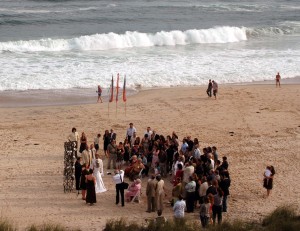 Weddings
All weddings are beautiful events. Would you like your day to go smoothly so that you can have some fun at your own wedding? I can make that happen for you. My style is easy-going, but I still get the shots that you'll treasure for years to come. I love to shoot weddings because everyone always looks so great. It's an opportunity to make images that have a certain "lasting power." That's me in the photo with the camera bag over my shoulder. It was made with a remote camera triggered by a radio held by an assistant, to capture the overall look of a beach wedding in Montauk, NY.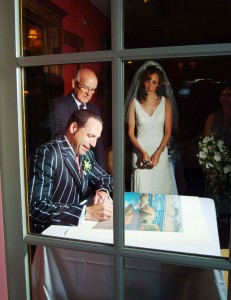 Here's an image of a Ketubah signing, lit by a remote flash inside the room. I'm always on the lookout for how light can make a picture beautiful and how it can work to provide you with great images.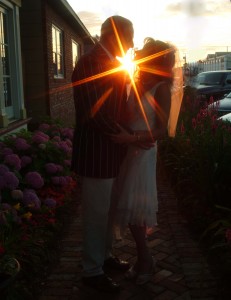 When I saw this spectacular sunset, I asked the bride and groom to step outside the restaurant for a second and made this image. Again, I am constantly aware of lighting opportunities and take advantage of them whenever I can.
Today's trend in wedding photography is a photo-journalistic one. This means that many photographers try to capture the action of the day without doing set poses. I believe that it's the family pictures, which entail some posing, that make the lasting memories. These are the ones you will look at thirty years from now to see what everyone looked like when you got married. So, some posing is always important. The rest make up your candids. I shoot with you in mind, looking for the images you will want to see many years from your wedding date. Remember…the more you are into posing for your wedding pictures, the better they will be!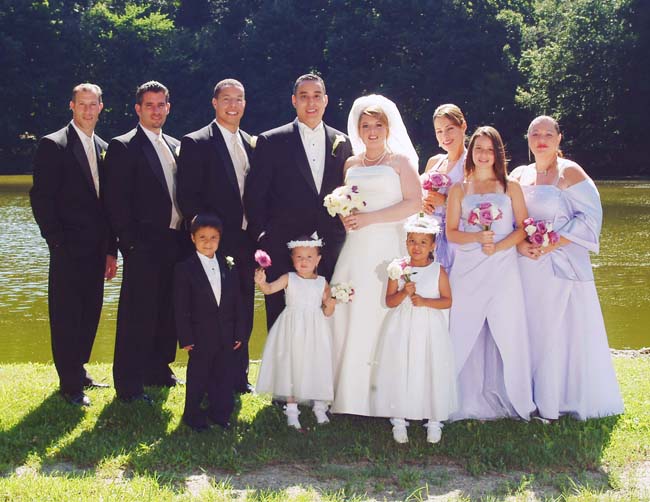 In the future, I will be posting more wedding images on this and the following page. So, if you are in the market for a wedding photographer, check out these pages. Now, go back to PORTFOLIOS and scroll down to ADDITIONAL WEDDING IMAGES. You may also visit my wedding site at williamlulowweddings for additional wedding photographs.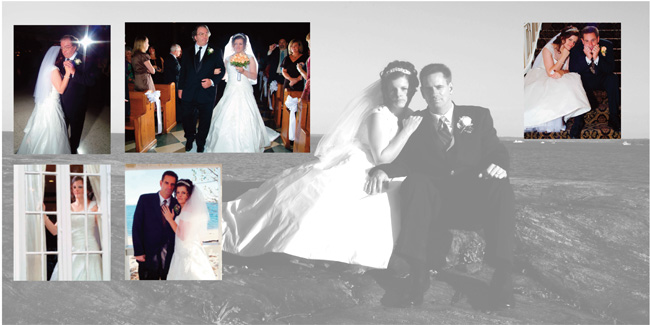 This is a panorama designed to cover two pages in an album. It is comprised of several images that overlay a general image. I can make any kind of design for a page or an album that you wish.