Why I Write Blog Articles!

by William Lulow
On this New Year's Eve day, I was just reminded that I have been writing this blog five days per week for more than THREE-AND-A-HALF years! That's roughly over 940 articles! Granted, some are repeats, but I only re-publish the ones I feel are important enough in the photography industry to warrant re-publication so that as many people as possible can read them. Plus, I'm always adding information and updating them anyway, and I love talking about subjects that have been a major part of my life for over 50 years now!
I also do this because with the proliferation of digital equipment which has the potential of greatly simplifying the taking of pictures, many amateurs as well as some professional photographers simply rely on this automated equipment to get their job done. Many don't really understand the "whys" and "wherefores" of what the process of making images entails. By trying to teach the basics and some of the tricks and techniques that professional photographers use to come up with great  images, I am hoping to elevate the overall quality of pictures from other amateurs and professionals alike. By learning about lighting and how to use it, one can become a better photographer and produce images of higher quality than just capture shots. Many people are taking pictures with their digital equipment without really understanding the whole photographic process. One thing I can do to help people become better photographers is to educate them in those processes.
I have been a photography teacher for the better part of 20 years and I have run a studio both here in Westchester and in New York City for the better part of 30 years. As a thoroughly experienced photographer, I have literally seen and been involved in almost all possible studio and location scenarios from event shoots to well-controlled studio portrait and fashion shoots. I have a great deal of practical knowledge which I have put forth in these articles, and have been willing and able to share them with whomever will read them. And, I sincerely wish that more people would take advantage of my expertise.  WordPress keeps an active archive of any and all blog posts, so if you have a need to re-read any older ones, you know right where to get them.
In addition, I offer various workshops and classes through local adult education schools as well as privately. You can use the WORKSHOPS page to see when the next one will be and what the topics are. There is really no substitute for practice, but workshops are a great way to learn technique in photography. I demonstrate lighting setups and then students practice them with their own cameras. They are able to see immediately, if they've gotten the idea or not. Since the lessons are objective, so are the results. If you've achieved the intended result, it's there for all to see. I have been to a number of "portfolio review" sessions where the results are more or less subjective, with various people adding in their comments. That usually doesn't translate into learning and, on the contrary, can result in bad feelings.
Students learn best when a technique is demonstrated by a good teacher and then they are given a chance to practice it on their own. The "hands on" experience is the best teaching tool, by far.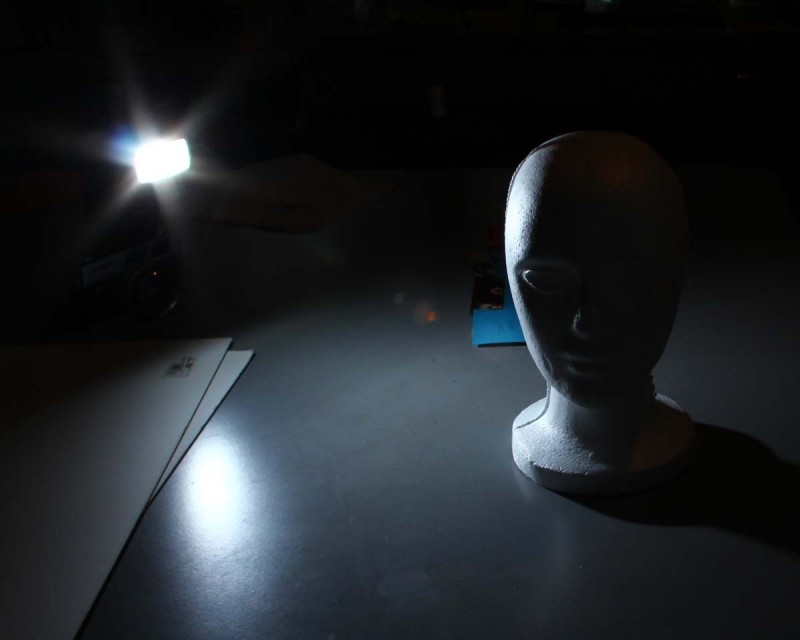 (Demonstration of an EDGE LIGHT obtained with a speedlight).
My longer classes (full day and multi-day sessions) are complete with a model, refreshments and printed materials that students take home to study.
You can check availability of these workshops on the website and/or sign up to get advanced notice of when they will be held.
If you are serious about trying to improve your photographic knowledge and techniques, good workshops are the way to go. If you are thinking of doing photography as a career, good apprenticeships are still the way to do it. But, by all means, learn your lighting! Remember, iPhones cannot be connected to studio strobes. You might be able to get some good shots with your camera phones, but unless you know your lighting, they will just be lucky ones. They are also not real cameras with controls on them. They are mobile telephones!
If you post a more than one sentence comment on any of my articles you have read, I will treat you to a free, two-hour workshop on "Getting To Know Your Camera Better," or answer any questions you may have about a specific kind of photography.