What's A Professional Photographer?
by William Lulow
A professional photographer is someone whose main source of income comes from making images. It is someone who can be relied upon TIME AFTER TIME to make salable pictures. That means that someone else will pay money for them on a regular basis. In addition, it is someone who has spent a lot of time experiencing how the business of photography works; how a studio is run, how to get and maintain a client base, how to purchase supplies and manage computer time correctly and, above all, has learned all the facets of equipment and is comfortable using it. This last point cannot be overemphasized. Photography is a business that is dominated by equipment. It takes cameras, lenses, lights, tripods, backgrounds, filters and numerous other things to make the whole process work to produce these images. These days you also need a fair amount of computer expertise. Computer programs are leased today instead of bought. Software manufacturers and developers are looking for more and better revenue streams. So, if you're not totally comfortable with all of it, then think about something else to do as a profession.
If you get a number of "lucky" shots once in a while, but don't know how you got them, you're not a professional photographer. If you don't completely understand terms like depth-of-field, aperture control, shutter speed, ISO settings and the myriad other settings on a professional quality DSLR or how these tools are used to produce images, find something else to do.
As I have indicated in many of these blog articles, photography is definitely an art, but one that derives its poignancy through a deep understanding of the science that makes the art work. By this I mean, you need to be a student of light and how it is used to create photographs. The great Dutch Masters (Rembrandt, Vermeer, etc.) were not only students of light, but they mastered the craft of painting with all its nuances. They knew how to mix paint to produce gleaming whites and subtle shades of gray. They knew the science of which pigments produced which tones.
In much the same way, professional photographers need to know when and how to use which f/stops and shutter speeds. They need to know which lightings create the effects they want and how to produce them EACH TIME they shoot.
So, if you are thinking of doing photography for a living, better investigate not only how to use your equipment, but what the entire business entails. I have spent quite a bit of time trying to write about all these topics so that readers get a good idea about what's involved. So, go back over some of these blog archives for answers to questions you may have. And, by all means, study the process BEFORE you set yourself up in "business."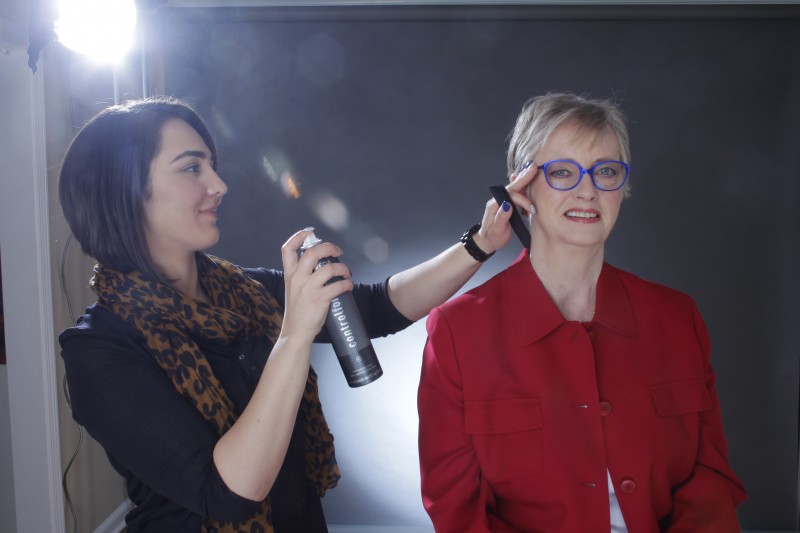 Here's a question for you: Can you explain the little light circles in this photograph? If you think you know the answer, (and it has to be a complete sentence) send it to me in an email. Winners will receive certificates for discounts on portrait sittings at my studio.