What Kind Of Photographer Are You?
by William Lulow
I've tried to cover the topic of the Psychology of Portraiture in several previous articles, but I wanted to begin talking about the very reason people take pictures to begin with. There are, of course, many genres within the photography field. Which you choose is totally up to you. But it would probably help to take a good look at your own personality and psychological makeup to determine what kinds of images you like to make. For example, if you have a personality that likes to  do things "spur-of-the-moment" and quickly, still life photography probably would not be for you. Shooting images of products and other objects requires just the opposite type of personality. If, on the other hand, you like to take things slow and are more deliberate in choosing things to do and how to do them, then shooting pictures of objects and other non-movable things would be more up your alley.
The question of why you like to take pictures, then, is mostly answered by knowing your own personality. My own, personal example has to do with the fact that I am fascinated by people. I'm curious about how they look, how they react to certain types of stimuli, their expressions (and how to elicit them) and what types of things they are involved in within their own life experiences. All of these things are achievable for me within the realm of portraiture. Additionally, I have developed the expertise with which I can capture expressions, defining moments, that take place in a photographic studio setting. The studio allows me to control most of the elements I use to produce photographs of lasting quality. I relish the experience of being "one-on-one" with my subjects so that I can find out about them enough to capture that definitive expression that provides the viewer with a "window" through which my subject can be seen.
I came upon this idea fairly early in my photographic career thanks to the tutelage of Philippe Halsman (the famous Life Magazine cover photographer). I could see readily, in his demeanor, how he interacted with his famous subjects and thereby obtained truly meaningful portraits.
One of  my early attempts was a portrait of the famed conductor, Mitch Miller (of the "Sing Along With Mitch" era):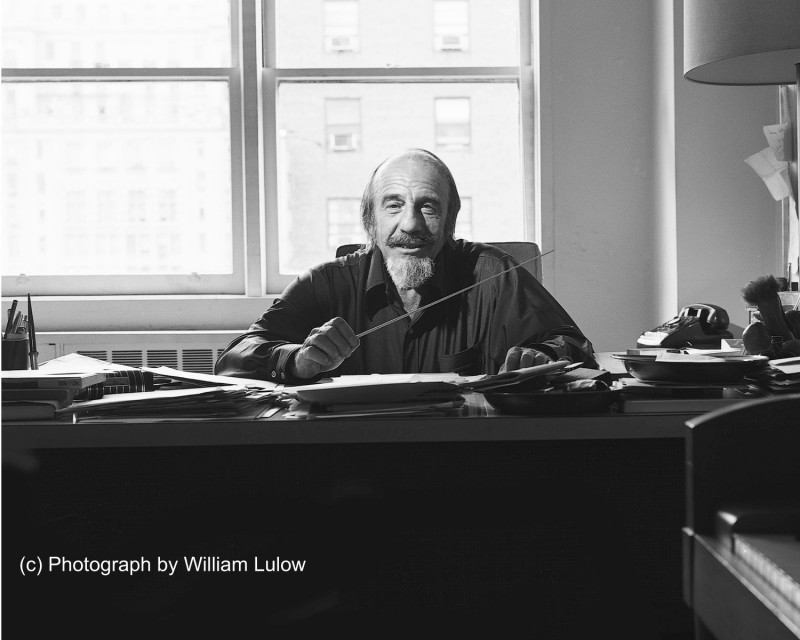 If I remember correctly, I knew someone who knew Mitch and suggested that I call him and go to his office on West 56th Street in New York City and photograph him there. When I got there and set up my camera and lights, I noticed that he kept a conducting baton on his desk. Since he looked a bit like the painter Rembrandt, I set up a Rembrandt Lighting on him and asked him to pick up his baton. Thus, I was able to capture an image of Mitch conducting from behind his desk. During this session, we actually didn't talk much. I asked him a few questions. He answered. And that was pretty much it! (Notice also, the piano on the lower right). This, as I said, was early in my career and I hadn't fully mastered the technique of engaging my subjects in conversation. Sometimes, you don't need to. But, most times, it helps to have something to talk about with your subjects if you're hoping to catch that "definitive moment" with them.
But, getting back to the main topic; I just love the whole procedure of making these types of images. It takes a great deal of thought to set up a shot like this but then it also takes the ability to make the shot itself. The lighting has to be right and of course, exposure and processing (whether traditional or digital) have to be right as well.
Here's another example with a subject somewhat less known: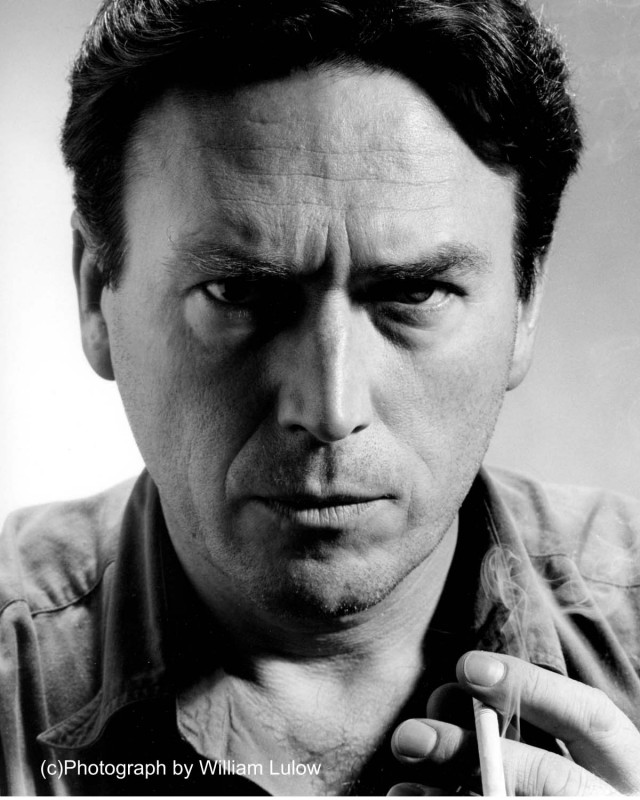 This portrait was taken after I had studied portraiture and portrait lighting for quite a while. It is an image of my friend and well-known French photographer Jean Rault. Jean has published many books in France, had many exhibitions, received a grant from the French government to photograph in the United States, and is currently doing a lot of work in Japan. I wanted to make a portrait that spoke to his seriousness of purpose and the psychologically revealing portraits he makes of his interesting subjects. This was almost a Cross Lighting which I set up to create an intense portrait. Jean and I have spent much time together in the past. This portrait was done circa 1988.
Expressing one's ideas and thoughts through portraiture is a difficult undertaking. It requires single-mindedness of purpose, thorough understanding of lighting and the willingness and ability to probe the human psyche for tidbits of information which help to elicit telling expressions. It requires the photographer to put himself/herself and his thoughts second when in the presence his subject. But, at the same time, to have the concentration to be able to snap the shutter at just the right time. The photographer's personality has to be suited for this task, if he or she is to be successful at studio portraiture.
Now, as I have indicated, there are many genres within the field of photography and even within portraiture itself. If you are more of a "shoot-from-the-hip" photographer, you might consider Hard News assignments which require much less studio technique and more "on the street" expertise. Each one is a valid pursuit. Each requires different personalities and talents.
It's important for each of us to decide what kind of photographer we are. We do this by first taking a look at our own personalities and psychological traits and build from there. We tend to do better at things we love and for which we are best suited psychologically.