Portraits On Location!
by William Lulow
Since I gave up my NYC studio and moved it to the suburbs, most of my corporate portrait work has been on location. As a matter of fact, one of the reasons for giving up expensive studio space in Manhattan was that the majority of clients I was shooting for at the time required me to come to their offices, set up my studio in their conference rooms, and do all the shots on their premises. It actually makes more economic sense to have me come to them because their people don't have to take time to come to the studio and I can photograph more people on location in a given amount of time than I could at the studio. I charge a day-rate (plus expenses) and I shoot as many people as I can in eight hours. Sometimes, I have been known to photograph twenty executives in one day. It can be done if you plan correctly.
I carry most everything I need on one hand truck, and I can usually set up a complete studio in a conference room. Here's one such set up I did recently: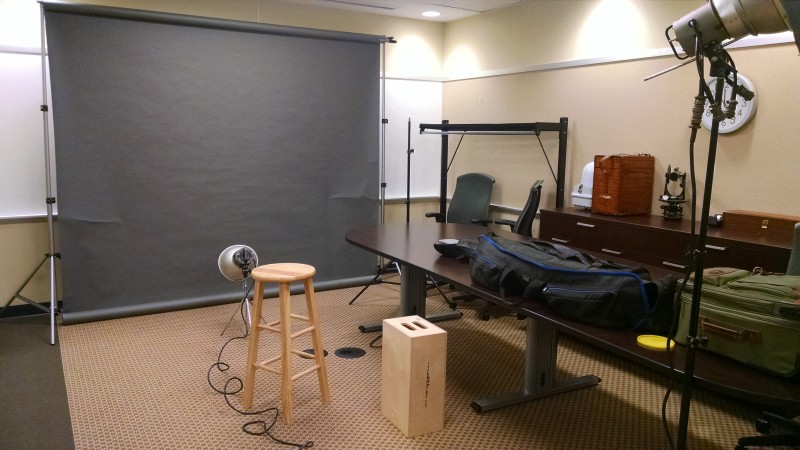 I use a Denny background kit, a five-light Dynalite setup with two Dynalite M1000 packs and an assortment of heads. I most often use my large portrait umbrella with assorted attachments for my other heads. Sometimes, I can't move the conference table very far, but all I need is space enough to be able to place accent lights behind the subject and a head to light the background. Another view: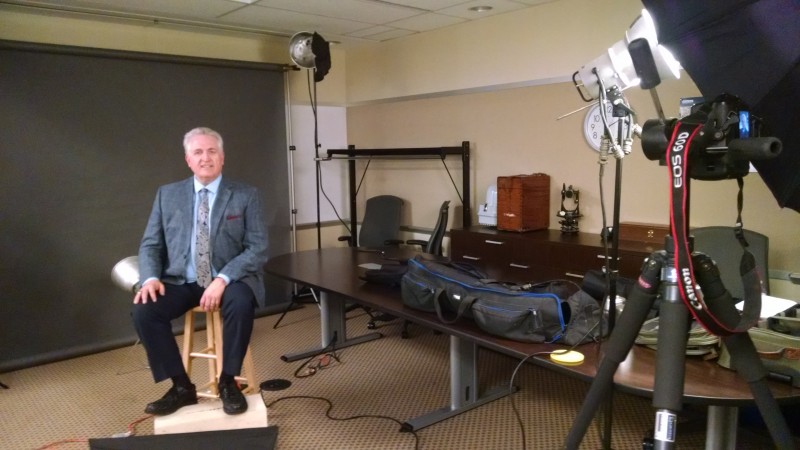 And, the reverse view back at the camera:
Everything I take with me is semi-portable. It's all easily carry-able but it's not all truly portable light. Since I shoot most of my portraits at f/11 or so, I need more power than I can get from a speedlight. I can also control the light better. It's hard to rig up a speedlight into an umbrella (although they do make mounting kits for the purpose). I also prefer the quality of light from a regular, round flash head than from a rectangular speedlight.
Here's a sample portrait produced with this setup: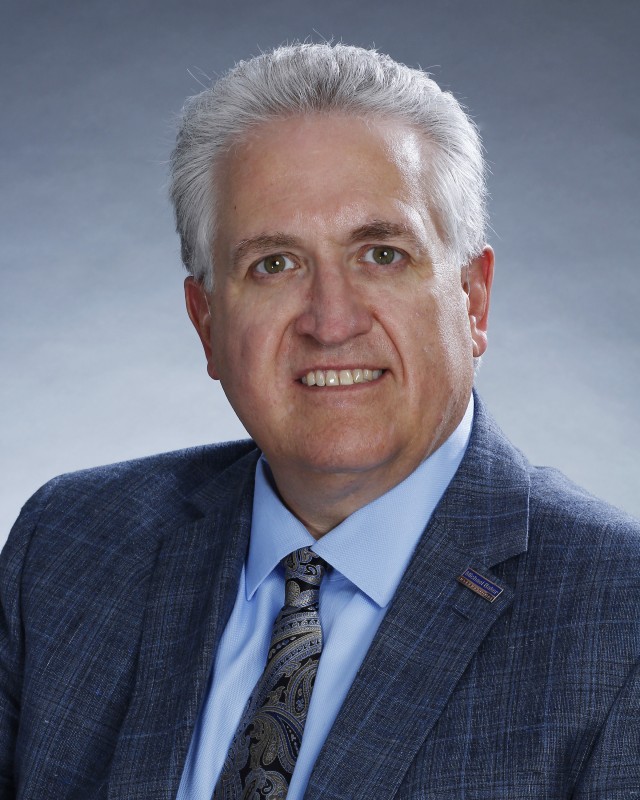 So, this is the basic setup I use with most of my executive portraits. They are mostly done at corporate offices and I can produce quite a few in a normal workday. It's really the most economical use of a photographer's time and the client gets quality portraiture they can use for whatever purpose they need.