Photographing In The Rain
by William Lulow
You've heard of the movie "Singing In The Rain" and how Gene Kelly, the dancer, splashed around while dancing and holding an umbrella. Well, here's an idea about taking pictures in the rain. Obviously, you need to protect your cameras and lenses from getting wet, but rain makes everything shiny and gives everything a "fresh" look. Not too long ago I made some images of several Westchester towns for WESTCHESTER MAGAZINE. The only day I could shoot before the magazine's deadline was a rainy Sunday. And these were some of the images I came up with:
New Rochelle                                                    White Plains
You're not going to get bright blue skies, but the rain will definitely at some shine and reflections to your shots. I used this technique many times even in good weather.
Here is an example: I was asked to do a shot of The Royal Regency Hotel in Yonkers and I asked the maintenance people to hose down the parking lot before I took the shot. I got the camera set up, tested the lighting and then waited while they made the parking lot wet. This was the resulting shot: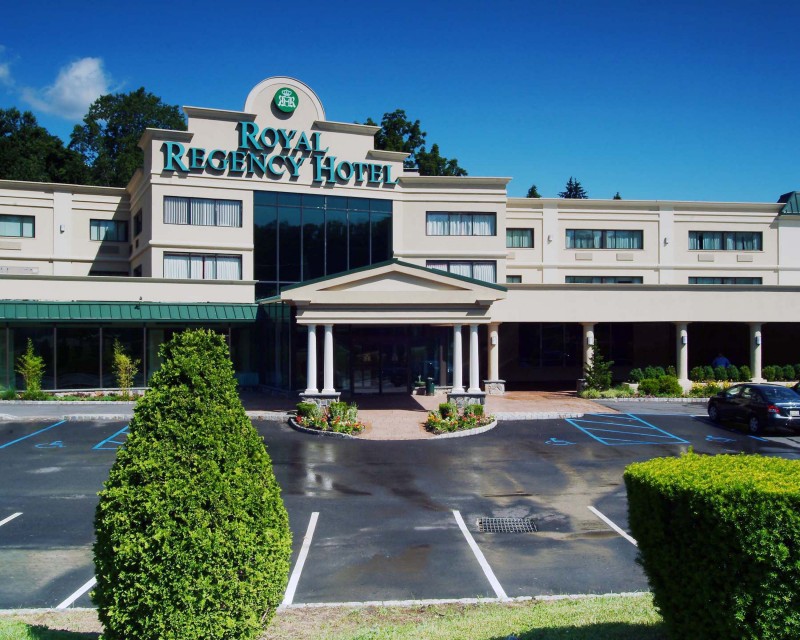 The wet pavement adds a certain "shine" to the whole image, and the reflection adds additional highlights which give the photograph added "pop." So, don't think that a little rain should stop you from making images! I once set up a shot with my old 4×5 view camera in the rain. It looked as though the sky might break and I'd get a great sunset shot with wet ground and pavement. I set up my camera and tripod under a big golf umbrella with plastic over it for extra protection. Got all ready to make the picture. Waited and waited for the sky to break and it never happened. I left the scene without taking one picture. Sometimes it happens that way, but it would have made a great shot. Photographers have to be willing to take those kinds of chances to get exceptional images.