Organic Versus Paid Social Media Advertising
For Photographers: One Person's Idea

by William Lulow
Selling photographic services, to my way of thinking, is not like selling a product or other service. First, prospective clients have to be in the market to buy commercial photography. Art buyers and art directors are in the business of finding and hiring talent, so they have to look at photographers' books and websites. And yet, if they don't have any projects coming up, they just might not have the time to look. Second, I believe it serves the interest of every photographer to be in a position where a prospective buyer knows your name and what kinds of pictures you make. So, this entails some form of advertising and/or promotion.
That said, the problem is that I find ads on the internet intrusive and try to avoid them whenever possible. So, how would prospective buyers feel about one of my ads?  If I'm searching for something and I see a pop-up ad, my first reaction is one of annoyance. So I try to avoid paid ads as a general rule. If I feel this way, I assume at least some others do as well. Kind of funny for someone in my line of work, I admit, but I think that one can over-saturate a particular medium. For instance, if I see someone's paid ad constantly, every time I open Facebook or Twitter, I tend to try to ignore it because it looks like the person is just trying too hard and in the process, becoming annoying. I find this particularly true of Dr. Oz. For a while there, he seemed to be everywhere! I determined that I would not listen to any of his pitches nor buy any products he endorsed just for the annoyance factor. I'm sure he is a good doctor and probably made some good points, but the frequency of the ads turned me off!  And, it may not even be that particular product or service. It's just the way the social media tend to work. (The algorithms and other formulas they use to place pop-ups, etc). And, on the social media, even though you can regulate the number of times a paid promotion pops-up, it always seems to be there when I don't want to see it. Another example; when I've been looking for something on eBay, all of a sudden, there it is in my Facebook feed within a few minutes of my search! It puts me off. So, I'm thinking that if I did the same thing, it might have a reverse effect on my target audience as well. I have spoken to several business owners who have paid for ads on Facebook, for example, who have reported that their sales have actually fallen off since placing their ads. Are they still getting value for their money spent? And why have their sales declined? There are usually many reasons for this, some may not be related to advertising at all!I understand that – but still…
I have always thought that photography as a business, relies on basic talent, followed by professional conduct in producing a job as well as advertising one's services. Maybe I'm wrong, but I think that there's a classy way to do this and  too much repetition might just spoil the effect. I used to advertise in the old Yellow Pages phone book when I had my studio in NYC. It was a small ad but was very effective. It brought in more than ten times what it cost in business on a regular basis. So, do I think that advertising works? Absolutely! But, most of my clientele come from the word-of-mouth variety. I also do direct mail, but my sense is that I want my advertising to be more low-key.
So, I have been trying to invest in solid, usable content in my daily blog articles in order to attract attention rather than a barrage of internet ads for my business. I want people to know me for the consummate  professional that I am.  To my mind, this speaks, not so loudly perhaps, but with a lot more class! So, I try to provide as much information as I can in all my articles so that people who read them get value for their time and effort. It's what I like to provide in my shooting sessions as well. I don't really have any hard data that shows me who is looking at these. Linked In provides some info on who has viewed your profile, but not for specific ads.  I do try to keep my name out there in the social media too! I don't post things of a political nature, nor do I share many things that aren't relevant to photography. I use the social media as a platform to advertise my business without being too "in your face" about it. In addition, I do two email blasts per month to a select audience which has expressed an interest in my services already.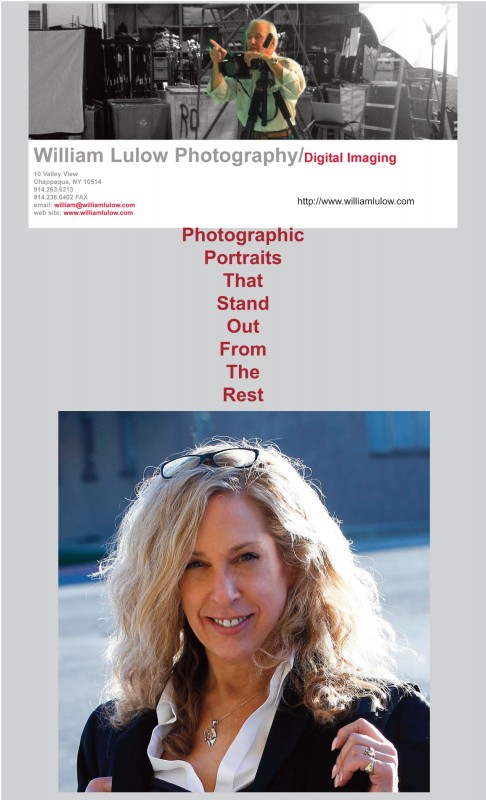 Perhaps my method does not follow the precepts of good advertising, but I would rather keep it more low-key and consistent rather than be screaming it out! I also have a sense that the organic kinds of responses tend to be a bit more natural, as if they flow from the information one puts out there. (I guess that's why they call them "organic"). There is an art gallery that used to say something like "If you're important enough and good enough, we'll find you! Don't advertise to us or send us promotional email or pieces." I think that there may be something to this approach. Also, many art directors love discovering new talent on their own. They like to come up with their own good people instead of having it force-fed to them. Anyway, just my take on things. Maybe I should be a bit more aggressive in my advertising efforts! Of course, I welcome any comments or suggestions!