Making Great Portraits
by William Lulow
Someone said recently (and of course, many times in the past), that it's the photographer who makes the pictures not the equipment. You can have the latest gear and the fanciest lights, but if you don't know how to use them effectively, your efforts will be for naught.
I have worked hard over the years to perfect a system and a lighting set up that will enable me to concentrate fully on the true process for portraiture of engaging subjects in meaningful conversation designed to elicit responses to carefully crafted questions and dialog. Then, to be ready and able to capture those responses. You need to be thinking solely about your subject. You can't be pre-occupied with settings, lighting arrangements, focus or anything else that distracts you from your main mission as a portrait photographer – capturing the essence of your subject the way you see him or her. You need to THINK about the person in front of the lens and what you want to say about her.  The thought will dictate the setup.  You can always change this as you proceed through the session, but you should always have a result you wish to achieve in mind  before  you start. Most portraits that fail to achieve greatness usually have no thought in them. An image of someone that is correctly lit, exposed and processed is a head shot. A portrait has all of these things plus the added benefit of a concept that is fully realized in the final photograph.
The best way to achieve this is to practice with your equipment (cameras and lights) until you can produce the result you want with regularity. If it's dramatic effects you want, you need to practice with dramatic lightings until it's second nature to you. That means setups, exposures, variations and processing to produce a consistent result.  Once you have achieved this level, then, and only then, will you be able to elevate your work to the level of great portraits.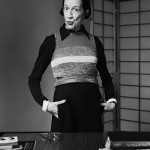 Portrait of Diana Vreeland, former editor of Vogue Magazine, shot for the Metropolitan Museum of Art, Costume Institute. This portrait was shot on location at the museum. I decided that I wanted my famous subject behind a conference table with books on fashion, since she had become a curator.