Learning The Business Of Photography

by William Lulow
Okay, as I have said many times, taking pictures today is easy! Digital cameras and the whole digital process has made that happen. So, learning your way around a digital camera is really a matter of studying the manual and practice. But, what about the business? How does one go about learning the business of photography?
It used to be that one could work for a successful photographer as an assistant and thereby learn how that photographer dealt with various issues that would arise during the course of running a studio. Back in the days when I was an assistant, I would constantly be on the lookout for ways in which the photographer handled his day-to-day business. As most people know by now, running a photography business entails way more than taking pictures. One of the catalog studios I worked for had a staff of approximately six to ten people. In addition to the studio owner, there was a staff stylist and her assistant, a product photographer who handled most of the off-figure and still-life work, the owner had his own assistant and the product photographer had someone who helped him as well. At the time, I handled most of the darkroom work. I processed literally thousands of rolls of film, made contact sheets and prints, when necessary. It was part of my job to maintain all the film processing lines and to renew all the chemicals when necessary. In addition, I had to help keep the studio clean and the darkrooms clean as well. When I wasn't processing film, I would try to watch the owner in the process of shooting. Sometimes, I would help out as a second assistant, adjusting lights or making sure the props were where they should be. This was a busy studio. Most of the shots were used in JC Penney catalogs and sell sheets, but the studio owner had quite a few other clients as well. So, I got to see how he worked with clients both in the studio and on location. I saw how location services were booked and used. I saw how transparencies and prints were sent to the clients and how they selected the best ones for their catalogs. I saw how the staff was treated and how lunch was provided each and every day for the staff. The reasoning behind this was that it was better to have lunch in the studio rather than have workers running out for an hour or more during the course of the day. This way, everyone would be in the studio and available to help with something as needed. Don't get me wrong. Everyone had time to sit down and enjoy their lunch, but having everyone in the studio also promoted a sense of camaraderie among all who worked there.
These things are part of the "business" that don't actually have anything at all to do with taking pictures, but nevertheless are important to attend to when running just about any business. I learned how to treat assistants and to find out what I wanted them to do. I learned how to set up before a job and to put things away after one. I learned how to deliver the photographs promptly and in a professional manner. I learned how to file negatives and keep records of the various components of any photography assignment. I learned about modeling agencies, how they worked and what made a good model. (It's not always about looks! It's about attitude as well). There are many intangibles to running a photography business. These were just a few of them.
Today, many photographers operate what is called a "Sole Proprietorship" business. It means that there is only one employee…the photographer. Assistants are hired on an "as needed" basis and if one is paid more than $600 for the year, the photographer has to file an IRS Form 1099 for him. If you own your own business and you run it as such, you have to keep records. You need to know how much you make for any given period and what your expenses are. Expenses include such things as: rent, postage & delivery, inks, paper, assistants, transportation, tax preparation, equipment (purchase & rental), office supplies and advertising, to name a few. You have to know how to make up an estimate for a job proposal. You need to have a filing system so that you can locate images and other files on any given job. You need to know your way around a computer and probably a smartphone or tablet as well.
These are a few of the things you need to know about if you plan to set yourself up in business as a full-fledged professional photographer. If you wish, you can always hire people to take care of all of this for you, but you'd better know what they need to do because if you leave YOUR business to someone else, you have lost some control from the beginning.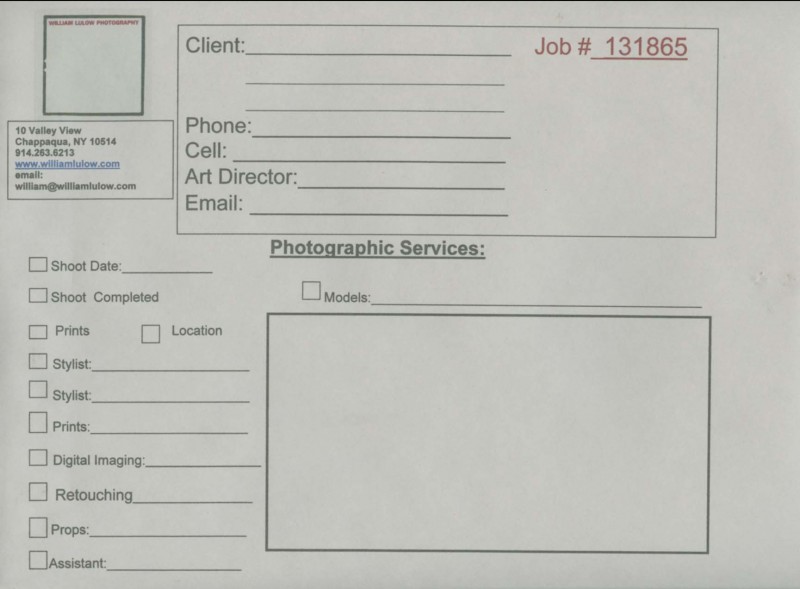 This is one of my job envelopes into which goes everything associated with the job from initial correspondence and estimates, to copies of invoices and the discs containing backup files. This helps keep me organized so that I can find any item pertaining to any job I've done.
Over the years, I've actually enjoyed keeping my own records. I have a computer program that tracks my estimates and invoices as well as takes care of whatever accounting I need. When tax season comes up, I simply print out my records and give them to my accountant!
If you are as careful about your business as you are about doing your photography, you should have a good business for years.