Learning Photography – Chapter II
by William Lulow
A few blog articles ago, I was talking about what a "DIY" world it has become and how everyone with an iPhone is now a photographer. I also spoke about a decline in interest, in some places, for good formal, photography education. Well, a little more than a week ago, I attended OPTIC 2017, hosted by B&H Photo here in New York and sponsored by a whole host of companies anxious to push their own photo gear. One of my main reasons for attending was to ask some of the other attendees why they were there. I did get to ask a number of people and their responses were mostly along the lines of listening to various speakers' experiences photographing natural subjects outdoors. (This was a conference aimed at outdoor photographers). I was somewhat surprised by the turnout for this event. Here, the line was already around the corner one-half hour before the doors opened on a Sunday morning: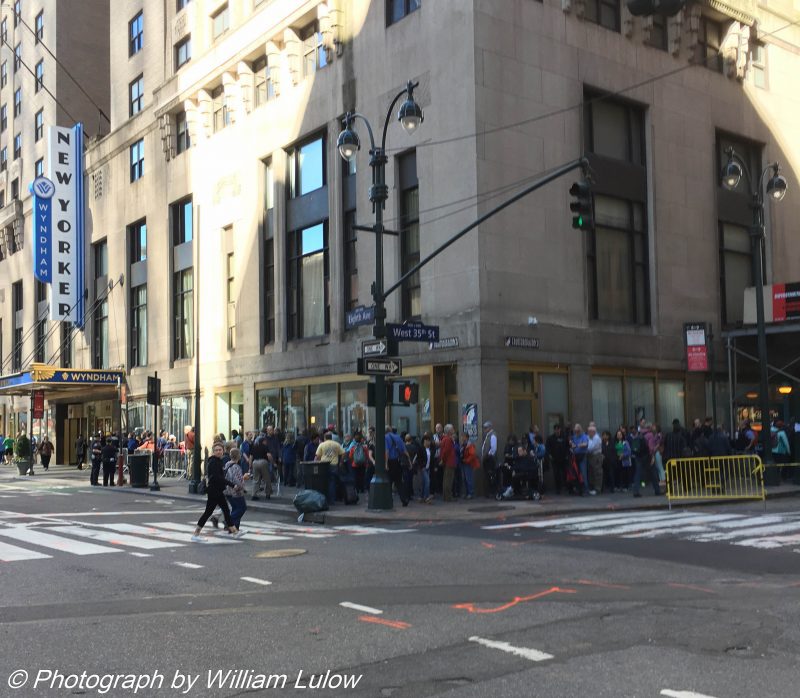 Several of the presenters I listened to basically told of the times they photographed for National Geographic or were part of a photographic exploration trip like those offered by Linblad Photo Safaris (which was also a sponsor). There was very little in the way of actual instruction, and technical information was really not on the agenda.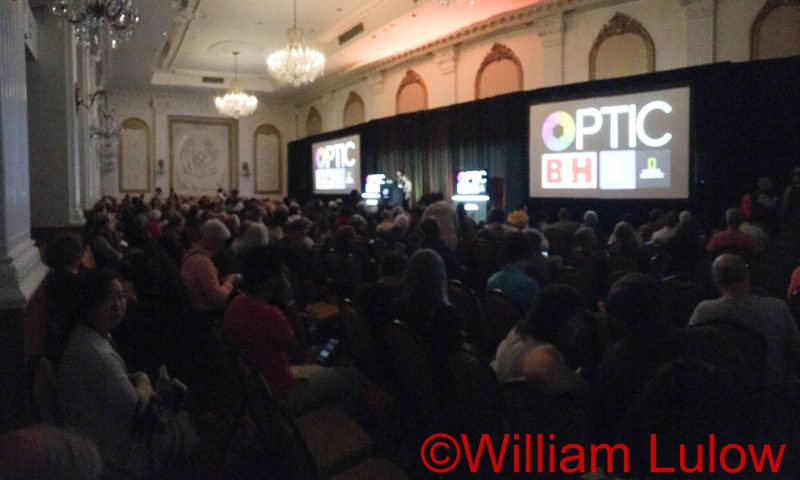 My take-away from this conference, for the brief time I was there (it did go on for three days), was the following:
There is still quite a bit of interest in photography and photographic instruction out there. People often turn to ways to express themselves when in doubt about other things in their lives. Just look at all the "independent photography professionals" there are nowadays on Linked In alone!
People are interested in gaining ACCESS to things they want to photograph. If your passion is shooting nature, then photo safaris could be the way to go. Specialty cruises and trips to see nature's wonders are the way to get you there.
Technical information is readily available these days from many sources – some free, some rather expensive. So, depending on your means, you can choose from a variety of different workshops, classes and on-line offerings.
For years, (I believe since around 1982 or so), there has been a conference called "Photo Expo" held each year at the Javits Center in New York around the end of October. In the beginning, there were many booths and lectures set up to teach various aspects of the digital process which was new at the time. I remember sitting at the Adobe booth for days on end, listening to each presenter and then going back to the studio and practicing what I learned. Thus, I taught myself how to use a good deal of their PHOTOSHOP program.
After 30 years of attending that conference, I have to say that with Adobe having closed up it's convention shop and a few other companies also having done the same, the interest in Photo Expo I think has waned somewhat. So, now there have been a series of smaller conferences, like OPTIC 2017 that have sprung up, that can cater to a more select audience. Canon ran one a couple of years ago called CANON EXPO 2015, which contained a series of very well-run talks from which I was able to learn quite a bit.
So, there is still an enormous interest in learning photography and how to better one's photographic efforts. But, classes, conferences and workshops have to be aimed at imparting information that people don't already have and that they can't seem to get for free on-line. Sometimes these classes can be inspirational in nature (as this one was). Other times they can be wholly technical like those aimed at beginners. My suspicion is that a lot of technical information packed into a short time span is not easy to digest for most people. If you are a beginner and you want to learn about how your digital camera works as a creative tool, (complete with information about lens apertures and shutter speeds) it would probably be best to look for classes at accredited schools that teach by the semester (16 weeks or so), with well-taught lessons and regular homework assignments, or an appropriate workshop that was built around a similar schedule.
As I have mentioned previously, I offer two such courses: one in beginning photography and the other in studio lighting for portraiture. If you are interested, send me an email and I will be glad to discuss them with you.
Let's hope people's interest in learning the various aspects and skills of this great art form continue unabated!