How To Follow An Art Director's Sketch
by William Lulow
When you work for an advertising agency, most of the time you are working from an art director's concept of what he or she wants the advertisement to look like. They often make sketches called "comps" that give you an idea of what the final ad will look like including the copy, position and overall "feel" of the ad. Sometimes they want you to add your own creative input and they will often leave details to you to figure out, but, more often than not, they have a preconceived notion of what they want. They have conferred with their client's representatives and have determined the type of photograph needed.  It is the photographer's job to bring that vision to reality. When I'm given this type of layout, where everything is pretty well drawn, the first thing I try to do is to capture what the art director has laid out. I try to set up the shot to make the drawing come to life. After I have achieved that to his or her satisfaction, I will often suggest other solutions to the lighting problems that serve as alternatives.
Here was an art director's sketch for a movie poster concept: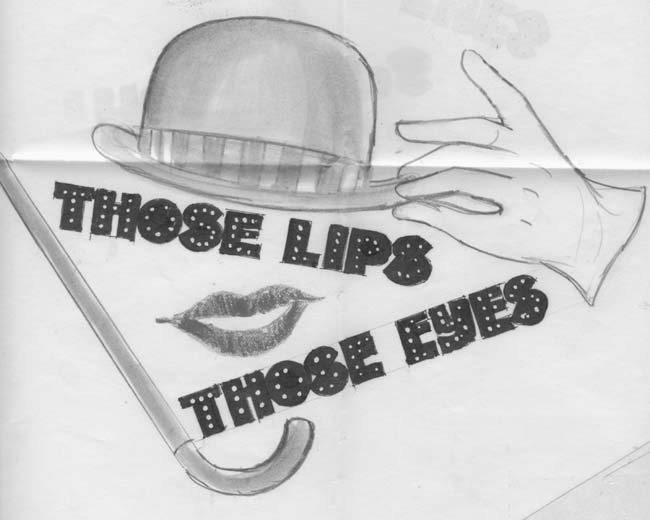 Props called for a white cane, a bowler hat and white glove all positioned as per the layout. The instructions said "Try for a dark moody background as well as a 'hi-key' light one." So, he clearly wanted two concepts from which he could choose.
This is what one of the test shots looked like. It was a Polaroid print that we bent to show where it would be cropped.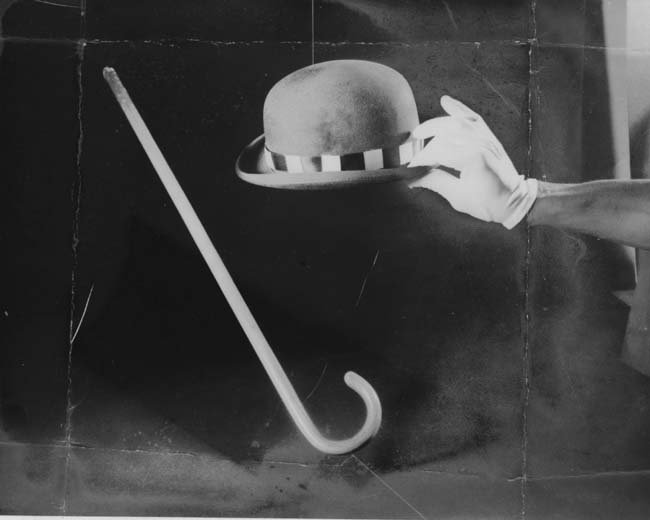 I worked on many such assignments which would be used in movie poster ads. These kinds of assignments call for a real understanding of light and shadow. Not only does the photographer have to be able to arrange props according to a sketch, but the lighting has to be able to delineate them accurately.
In the days before digital cameras, I often worked on catalogs that had layouts drawn by art directors without any real sketches. Sometimes, all they gave me was a square or rectangular space which had to be filled with a photograph of the product. Often, the product was sketched in with space around it for some copy. I had to make an acetate overlay which went on top of the ground glass back of my view camera, so I knew exactly how much space I had and what kind of background I would need so that the art director could superimpose the right words. It was a complicated process, but not without lessons.
These days, digital photography has certainly made it easier to "preview" everything. Photoshop and page-making software like Adobe's In Design or QuarkXpress has made it possible to enlarge or shrink both image and copy to fit certain layouts, but the photographer's knowledge of lighting is still as important as ever in making these sketches into real advertisements.