How To Choose A Wedding Photographer
by William Lulow
As in choosing anything, looking at too many samples can be counter-productive. So it is with wedding photographers. I'd say that interviewing five or so professionals should be enough. Much more than that can confuse you and less than that won't give you enough of a comparison.
Really, the most important consideration in hiring someone to photograph your wedding is that you need someone you can get along with for the duration of your event. The more you are involved in the photography, the better the images will be. Photographers love people who pose for them. If you'd rather not have your picture taken on your wedding day, they won't be any fun to look at. The easier you make things for the photographer, the better the images will be. So, you need to find someone with whom you can form a good working relationship.
Most professional wedding photographers these days, know what they are doing. They will be able, with the help of autofocus and the knowledge of light and lighting, to produce a great set of images of your wedding day. There are some who are just not as skillful as others, but you should be able to tell from looking at their presentations. Look to see what kinds of images they make from one wedding to the next. Look to see if there are any innovative kinds of shots that might show some creativity.
Most wedding photographers have some kind of basic package they offer. Some offer a DVD, but no album. Some offer everything but are much more expensive. Some include an "Engagement Shoot" as a way of getting to work with the couple a little bit before the actual wedding day. This, I think is valuable. I think that you need a DVD of hi-res images but not necessarily an album. See if the photographer offers an album you can order at a later date. There is usually a 100% markup on albums. It may be helpful to know that brides cannot order their own albums from album companies themselves. This must be done through the photographer. Some photographers offer an album, but the bride then has to purchase the DVD separately. It is often hard to compare "apples to apples."
But, if you both agree that it will be fun to have the photographer at the wedding, and you both will be into posing and spending some time getting great shots, then that's the photographer to hire. The photographer who advertises that she is a "journalist" in her approach will probably miss a number of necessary shots. The images that stand the test of time and will have you looking at your album for years to come, are the posed ones of your family. You will want to see what everyone looks like after ten or fifteen years. Not necessarily the ones of Uncle Bernie dancing or the "grab" shots of people acting silly on the dance floor. Make sure your photographer knows how to pose people. Make sure she has a command of lighting both indoors and out. Those are the ones to hire. Look for the images in which everyone looks good. That indicates that the photographer can relate to groups and individuals to elicit great expressions.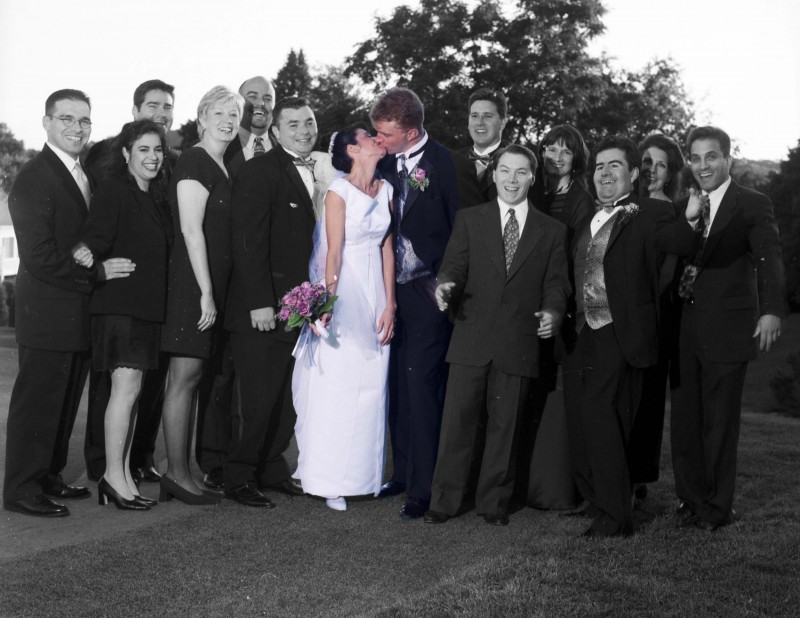 These are the most important things to look for in a wedding photographer. Don't be dazzled by slick presentations. Look instead, for personality and the ability to relate to people.