Getting Clients For A Commercial Photography Business!
by William Lulow
Note: This is an update on an article first posted several months ago!
Knowing how to take a great picture – having the right equipment, setting up the lighting, making great exposures, etc., is all well and good, and I've attempted to give my readers some helpful information about bettering their photographic efforts, but everyone always seems to be interested in how photographers get their assignments to begin with! Well, the answer is that there's really no secret formula to it. Rather, it takes a lot of hard work ,perseverance and a little bit of luck!
Prior to starting my business back in 1980, I spent a lot of time getting a portfolio together. It's easy to gather a bunch of your photos and put them together in a book of some sort, but it's another thing entirely to make sure that they are the absolute best images you have and to arrange them into a cohesive unit that really tells the story of who you are as a photographer and what you like to shoot!
You are always going to do your best work when it's something you love, so you need to discover what that is before you begin to set yourself up in business. Sometimes it's not that easy, so you have to take stock of what you've done in your life and what you'd like to do and why! After you have answered those questions, you can begin to narrow down your body of work, such as it is, to show those things. In my case, it was portraits. I have always liked to think that I had a way with people. I have a way of getting to know them just enough to break down some of the initial barriers to making great portraits and gain their trust long enough to come up with some interesting and salable images. So, that's me! Every photographer has to arrive at what they like to do for themselves.
Now back in the dark ages, once you had a good portfolio (book), you could call up an art buyer or art director, make an appointment and go show her your book. Even in those days, it was getting harder and harder to do that. Most often an art buyer would say something like: "Book drop off day is on Wednesdays. Drop your book off and we'll notify you when we're done looking." I can remember my first such experience with this. I arrived at the agency on that Wednesday and I was asked to leave my book there with the approximately five hundred others on the floor! I couldn't believe how many books were there! The entire hallway was littered with them. I could easily see how an art director's entire day or days could be taken up just looking at all the images. "How in the world would mine stand out from all the rest?" I wondered. So, I had the firm of Brewer & Cantelmo, well-known at the time, make a brown leather book for me which was recognizably different from all the other black books there. Not sure if that helped or not (it's really the content of your work that sets you apart), but at least I could recognize my book when I went back to pick it up. Sometimes this worked but more often than not it didn't. Then, I thought I'd do more homework by looking at something called the "Agency Redbook" which is available at a good library. There, you'll find listed the names of all the advertising agencies in the world, their various offices, the art directors and art buyers on their staffs and even what accounts the agencies are working on. These were often updated every 6 months because people in the advertising industry have a tendency to move around quite a bit! It costs thousands of dollars to subscribe to these periodicals, so you almost have to use the library to get the latest editions. Problem with this method is that even though you can research which accounts the art directors at the agencies have, you have no way of knowing what kinds of concepts they're thinking about for their next campaigns. So, this method of "getting your name out there" was extremely labor-intensive and produced limited results.
Probably the best way to land photographic assignments is to know an art director, art buyer, publisher, editor or writer. You then have to convince them that the type of work you do is perfect for what they are working on currently. Sometimes this works and sometimes it doesn't. You also have to be able to convince a prospective client that you can actually handle the job!
With the advent of the internet, everything changed!  Almost all introductions are done online these days. So, you have to have a website that is viewable across all the various platforms we have today (computer, tablet and smartphone) and that's fast enough so that images load quickly. You have to use the same amount of care and self-examination that we did back in the 1970s and 1980s with our books and show only your best work in whatever genre you decide you want to shoot. The problem with this is that it's okay to have a great website, but it won't do you any good unless people see it! So, now you have to somehow drive people to your website so that they can see all your beautiful work! Again, these days, the web is mostly content driven. If your stuff is not top notch,  interesting and timely, no one is going to be compelled to look at it. And, if you don't have that kind of website, you're not going to land many assignments. So having prospective clients see your work when they are actually looking to hire a photographer is the trick! This makes consistency of prime importance. Your message needs to be "out there" constantly.
Today, it takes a bit of expertise where the internet is concerned. You have to know how Google or other search engines use your site's keywords and other information to rank you among the thousands of other photographers out there in the world. Because, yes, you are now competing with other photographers WORLDWIDE! The internet does make it possible for you to appear in search engine results for a SPECIFIC GEOGRAPHICAL AREA, but this can be done when you initially set up your search engine specs. I do not have the space to get into all the specifics of SEO (Search Engine Optimization) in this article, nor do I pretend to be an "expert" on the topic, but suffice it to say that it takes some doing on your part and might require the help of someone who knows a lot more about it than you do. And, of course, this costs money! As photographers, we also have to realize that search engines often don't "see" images, per se. They do read texts, which is why keywords are so important. Your keywords should contain the names of your major geographical markets (the basic area in which you have your place of business), and the names of the kinds of photography in which you specialize!
Finally, one technique that I have used fairly successfully has been NETWORKING. Typically, you go to a networking event, meet a lot of people, hand out business cards and try to make connections with people who might be able to use your photography in the future. The problem with this method is that you never quite know which networking events might have the most potential clients for your work. So, you wind up going to quite a few such events. I have gotten better, over the years, at picking out which networking events might be more lucrative, but I'm not always right. One recent event finally netted me a good client SIX MONTHS after the event! But I consider this great results, because this looks like a long-term client who will have many jobs to shoot, but we shall see.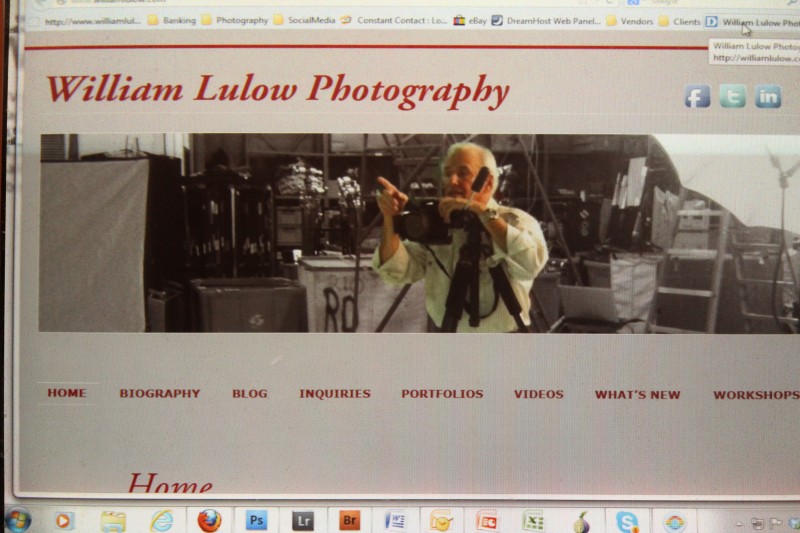 If you are going to be successful as a professional, commercial photographer, these are the kinds of clients to have, and this is only a sampling of the hard work necessary to land them.
Save
Save