Equipment
by William Lulow
I have always paid more attention to the substance of photography than the trappings of the technology. I have always thought that great photographs can be made with even a pin-hole camera. But, these days, the technology has come so far as to influence the quality of photographs under certain circumstances. My studio equipment, strobes and power packs,  are vintage machines but still work perfectly to give me the quality of light I have always loved in studio situations. My portable strobes, on the other hand are older, still able to do the job, but not as up-to-date as the newer versions. So, I have had to upgrade.
One piece of equipment that I have recently acquired is the Pocket Wizard Flex TT5 Radio Receiver for Canon. This radio transmitter will allow me to mount a flash unit on my camera and, at the same time, trigger several portable units. As I have explained previously, when doing flash photography on location at events, it is necessary to add light to existing scenes to make sure everything is lit properly.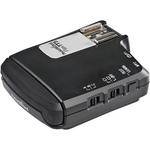 This is what the unit looks like. It is also compatible with all my other Pocket Wizard radio units.
The real lesson here is that it is important for all of us to keep on top of developments in the industry. New products are continually being introduced that can improve the image making process.