The Right Way To Buy Photographic Services
by William Lulow
I had the pleasure last week of doing some pictures for a new consulting firm that was just getting started. They had a complete shot list of about six or seven different images they would need for their new website and accompanying brochures. They were prepared with the right changes of clothes, the "looks" they wanted and the locations they needed. I gave them an idea of what clothes to wear and how I was going to handle the shoot. I told them it would be about 1/2 day worth of work and what that would cost. They agreed, and sent me the image list with some annotations and samples from other websites they had seen.
I usually begin a shoot like this with the shots that I think will take the most time. So, we did the portraits first. I set up my gray, no-seam background in the lobby of their offices and proceeded to do the portraits first. These shots were lit with Dynalite heads and a single, M1000 pack. Accent lights were set at one-stop brighter than the main light. You need enough space to set up the accent light far enough behind the subject to provide the right highlight. That's why I chose the lobby.  Even though they will probably be used as small images, they deserve to be lit correctly and given the proper time to get just the poses and expressions that would carry their message:
We managed to shoot over 250 frames and came up with several different looks for use on their website. These were just two of the "formal" poses.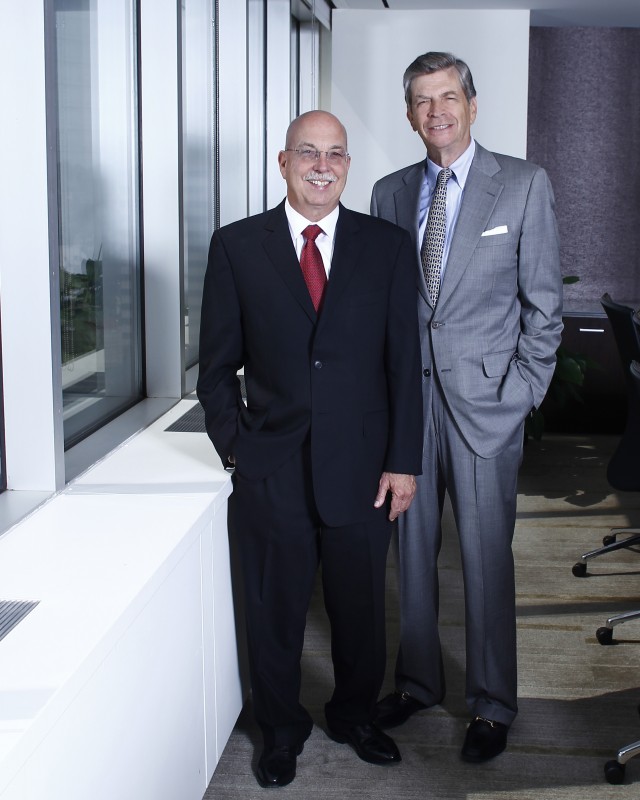 This was a "full length" pose that was a little less straight-forward. And below, is another shot of the two men working together: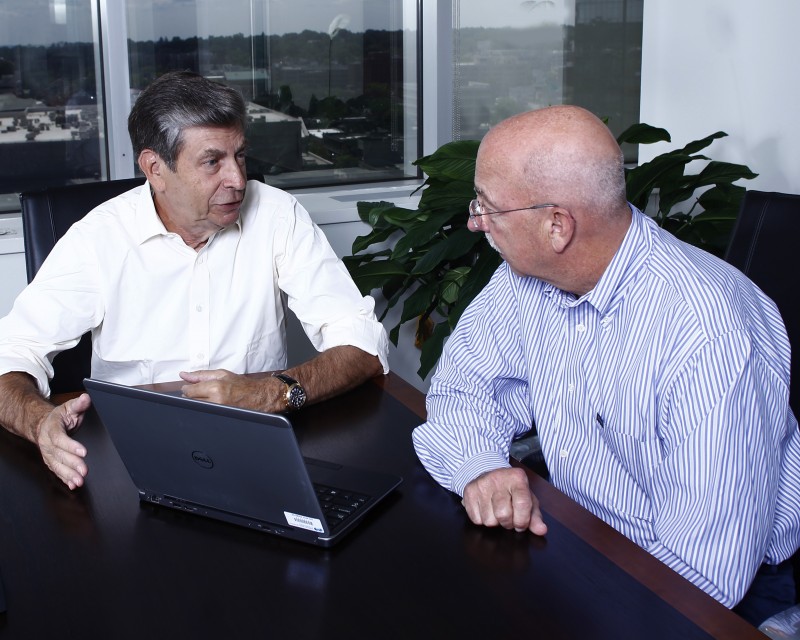 This kind of pose gives a more intimate picture of the two partners. I wanted the outside to be balanced (more or less) with the inside exposure. I took a meter reading of the outside ambient light which yielded an f/stop of 7.1. Since with flash, the shutter speed is already set, I dialed f/7.5 into the camera and arranged my lights accordingly. The ambient light was just "painted" in with a shutter speed of 1/60th of a second.
So, quite a number of different uses can be made from the images obtained in just a half-day worth of shooting. This is the correct way for clients to purchase photographic services. Book your photographer for a specified time and do as many shots as you can within that framework. This client came away with about seven or eight finished images for use in brochures and on their website.