Black & White
by William Lulow

Many photographers these days, like the look of old black and white photographs. They figure that they can just shoot a scene in color and convert it later in Photoshop to black and white. The problem with this is that there is no thought that goes into it beyond, "Hey, let's see if this looks good in black&white!"
What I prefer is a "previsualization." Photographers need to learn to look at a scene and decide BEFORE the image is captured, whether it will be a color shot or a black & white shot.
Here is an example: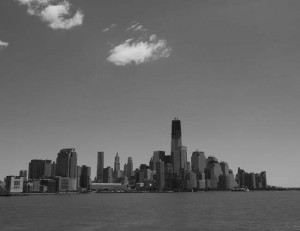 In order to capture the dramatic quality of this shot, it had to be "seen" before it was recorded. In order to render the sky dark and make the clouds stand out, a special filter was necessary while the image was made. Not a new concept, filters have been around for decades. Knowing how and when to use them takes some thought. Filters transmit light of their own color and absorb all others. So, if you want to darken a blue sky, you need to use a red filter, if you are shooting in monochrome mode. Filters in other colors can be used similarly to obtain other effects. An orange filter will make a similar image, just not as dramatic.
When I shoot in color, I also like to use a filter to darken skies. If I see a scene like the one of lower Manhattan above, I like to darken the sky for drama, but I don't want to lose detail in the shadows.
Look at this example: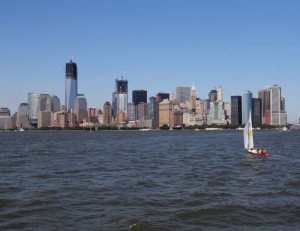 Note the gradation of intensity from the dark blue sky to the clear buildings. This effect was made by the use of a filter that is graduated. It is darker on top and clear at the bottom. On the top is a "neutral density" filter (filter with no color characteristics, just dark), and the bottom is clear. This gives the effect of darkening the sky and keeping detail in the lower portion of the image.
Let me know if this is helpful.
William Lulow